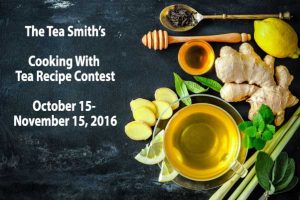 Who is eligible for the contest?
The contest is only open to all US residents. All contestants must be 18 years or older.
What are the recipe categories?
Original recipes should be submitted in one of 4 categories:
Breakfast
Main Course
Side/Small Plates
Dessert
There will be one Grand Prize winner, plus one winning recipe for each category, which makes a total of 5 winners.
What makes a "Stand-Out" submission?
Stand out submissions are recipes that inspire us to buy locally and start cooking!
We like original recipes that are simple but creative and easy enough for a beginner/intermediate cook to prepare.
We also love a great photo. A stand-out submission will include an engaging photo of the finished product; of the work in progress; or with you and your creation.
How do I submit an entry?
All original recipes must be submitted via email– chiefleaf@theteasmith.com before November 15, 2016 at 11:59pm Central time. Submissions submitted after this time will not be accepted.
As this is a contest aimed at community engagement, we encourage you to post your creation on a blog or social media for the world to see and include the tags #theteasmith. This is not a criteria for entry, but a fun part of sharing your recipe and hard work with your friends and community.
What can I win? What are the prizes?
The Tea Smith is offering the following prizes for the 2016 Recipe Contest:
Grand Prize: $100 gift certificate to The Tea Smith. Category recipe winners will each receive a $50 gift certificate to The Tea Smith.
Category Winners: Breakfast, Main Course, Side/ Small Plates, and Dessert winners
How will we pick the winner?
Submissions to the Tea Smith 2016 Recipe Contest will be scored on a point system, as follows:
Recipe Presentation (photo) – Does the picture inspire us to cook? (10 points)
Simplicity – Is it convenient and simple enough for anyone to try making? (10 points
Originality – Do you use tea in a creative or unique way? (10 points)
The Story – Tell us what inspired your recipe. (10 points)
The names of entrants will not be visible to the judges. Top entries will be short listed and prepared for by students attending Metropolitan Community College's Culinary Institute. A panel of judges will determine the winning recipes by giving a final score for flavor (10 additional points). The entry with the highest points in each submission category will be the winner. The Grand Prize will be the highest scoring entry.
Submission Release
All 2016 Recipe Contest submissions, including photos and recipes will become the property of The Tea Smith. We reserve the right to publish an eBook containing both the winners and other selected submissions.
We will feature a variety of submissions and winners from the 2016 Recipe Contest on our website and in social media between December 2016 and February 2017. We will provide recognition for the submissions by acknowledging the person's full name, place of residence and link to their food blog if applicable. All submissions MUST be original recipes.
How will the winners be announced?
2016 Recipe Contest winners will be announced in mid December via direct email notification to the winner and public notification on The Tea Smith website and social media channels. The Grand Prize winner and 4 category winners will also have their recipes featured in The Tea Smith's January 2017 Newsletter.