As the weather starts to chill, we turn from iced tea to hot. But what if you need something more hearty? This pu-erh old fashioned will put a bit of hair on your chest.
Pu-erh Old Fashioned
Modified from a recipe by Autumn Giles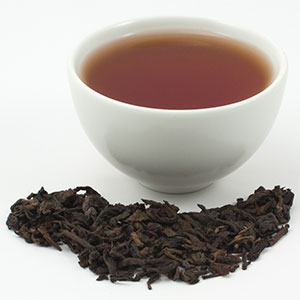 Ingredients
For the Pu-erh infused Bourbon:
For the Pu-erh Old Fashioned:
1/2 teaspoon sugar
3 dashes Angostura bitters
A few drops water
2 ounces Pu-erh infused Bourbon
Garnish: Lemon twist (optional)
Directions
For the Pu-erh infused Bourbon:
Combine the tea and bourbon in a jar and cover the jar.
Let steep at room temperature for 2 hours. Strain the tea leaves and discard.
Store infused bourbon in a sealed jar.
For the Pu-erh Old Fashioned:
Put the sugar in an old fashioned glass then add the bitters.
Add just enough water to saturate the sugar and muddle the mixture until the sugar is dissolved.
If you don't have a muddler, use the end of a wooden spoon handle.
Add the bourbon and top with ice.
Stir 10 seconds to chill and combine; garnish with lemon twist if desired.