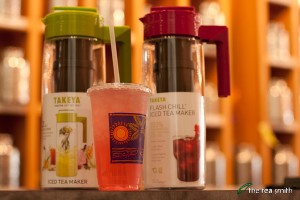 Although it may not be listed on everyone's calendar, June is National Iced Tea Month and here at The Tea Smith, we can hardly contain our excitement!  According to the Tea Association of the USA, approximately 85% of tea consumed in America is iced. Another fun statistic- On any given day, over 154 million Americans are drinking tea.
Though tea has been around for nearly 5,000 years, iced tea is much younger. Iced tea began making an appearance in the 1860's in the U.S., but became more prevalent in the 1870's when recipes began to appear in print. At the 1904 St. Louis World Fair, Richard Blechynden, a tea merchant and director of the East India pavilion became frustrated as he tried to offer samples of his hot Assam tea under the sweltering Missouri sun. In order to save the day and generate interest in his samples, he circulated the tea through a series of lead pipes immersed in ice. The result was that the tea, now chilled, turned into a hit with the fair visitors.
Most of us think of a crisp tasting black tea over ice as the most popular way to enjoy iced tea. But recipes from the 1800s resembled a strong drink of cold green tea generously spiked with liquor and sometimes sweet cream. The earliest record of the more familiar iced sweet tea comes from a community cookbook by Marion Cabell Tyree, published in 1879: Housekeeping in Old Virginia."Ice Tea-
After scalding the teapot, put into it one quart of boiling water and two teaspoonfuls green tea. If wanted for supper, do this at breakfast. At dinner time, strain, without stirring, through a tea strainer into a pitcher. Let it stand till tea time and pour into decanters, leaving the sediment in the bottom of the pitcher. Fill the goblets with ice, put two teaspoonfuls granulated sugar in each, and pour the tea over the ice and sugar. A squeeze of lemon will make this delicious and healthful, as it will correct the astringent tendency."
We suggest these 4 recipes for the PERFECT ICED TEA
The Impatient Method
Can't wait? Infuse two teaspoons of tea per 8 oz. water. After infusing, pour over a glass full of ice and enjoy! Serves one.
The Patient Method
Infuse one teaspoon of tea per 8 oz. water. After infusing, chill and serve. Serves one.
Cold Infusion
Grab size four T-sacs and add approximately one oz. of tea leaves inside T-sac. Fill a one gallon pitcher with cold water. Place T-sac in pitcher and let set in refrigerator for 6-8 hours.
The Party Method
Having company? Grab a size four T-sac and use the Impatient Method on a larger scale. Fill up a size four T-sac with one ounce of tea leaves and place in a one-gallon pitcher. Infuse tea using only ½ gallon of hot water. After tea is done infusing, pour over a one-gallon pitcher of ice.
Life is so busy, and we seem to be running from one place to the next at a rapid pace most of the time. We invite you to take some time to slow down and create memories that will last a lifetime during this summertime season. Celebrate National Iced Tea Month with some delicious iced tea, while watching baseball, smelling the flowers, splashing in the water, basking in the sun.
To celebrate National Iced Tea Month, The Tea Smith extends an invitation to come in and enjoy free iced tea samples on National Iced Tea Day: June 10th.