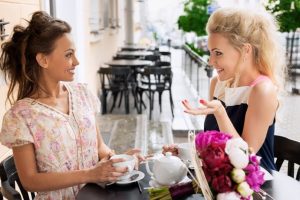 Did you know that tea is the second most consumed liquid on earth, only after water? It also contains a plethora of health benefits from increasing our metabolism, to helping prevent cancer, to controlling cholesterol levels.
I'm the first to admit- walking into my first teashop was quite an intimidating experience. There were all types of cool canisters along the wall with teas I had never heard of, some of which I wasn't even sure of the pronunciation. Yes, I was actually scared. My eyes quickly darted over all of the tea names and landed on one I had heard of and knew I could pronounce- Earl Grey.
So when a friend of mine asked if I could be her tour guide into the world of tea, I was elated! Two years since that first Earl Grey, I felt like I had a much better grasp on the fabulous world of tea. Here are some simple tips when introducing yourself or a friend to tea!
First and foremost- have fun! Don't take it too seriously. It should be an enjoyable experience to try new teas. The first step is to get the necessary supplies. They will include a tea infuser, a tea kettle and a nice mug to enjoy your tea in.
As a tea tour guide, the best thing to do is to not be overwhelming. Sure, let them know that the world of tea is so much bigger than this cup or this variety, but also bring it to a level that they can relate to. Show them what tea can do for them. Whisk up a Matcha tea and ask if they feel like they have more energy. Have them take notes when trying new teas. It's hard to remember all of the types/flavors later on.
If possible, visit your local tea store during a slow time of day. A weekday afternoon might be a good time. Start out slow, maybe order a tea flight with 3 or 4 sample teas. The staff will be able to spend more time with you talking about some store favorites along with answering all of your questions! Make sure to try the store samples too!
Enroll together in a tea class! Tea 101, Matcha Madness, and Introduction to Green Teas are offered at the Tea Smith and are all great choices to learn more about tea.
If you're unsure about where to start with all the different tea types, try a tea sampler box! Tea samplers include (6) seasonal loose teas. Another great option is to check out a tea subscription box. The Tea Smith hand-picks blends and flavors to best complement each month of the season, from spicy and comforting teas during the wintertime, to fruity teas for icing on long summer days.
In the end, show your new tea drinking friend that tea is something worth paying attention to, not just a hot drink for when you're under the weather.