Chocolate and peppermint are a classic combination, especially in wintertime. This drink blends the niceness of antioxidants with the naughtiness of peppermint liquor.
Hot Chocolate with Peppermint Liqueur
(Serves 2)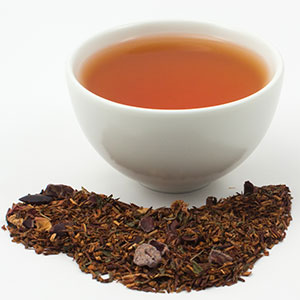 Ingredients:
16 oz. water
1 tsp. rock sugar (optional)
1/2 oz. coffee liqueur
1/2 oz. peppermint liqueur
Whipped cream
Crushed peppermint candy
Directions:
Infuse the Chocolate Mint Rooibos Tea in 208° water. Steep for 5-7 minutes. Strain.
Pour 10 oz of the brewed tea into your favorite mug.
Add coffee and peppermint liqueur and stir well.
Garnish with whipped cream and crushed peppermint candy.
For larger groups, add an additional 9 g of Chocolate Mint Rooibos Tea for every 8 oz. of water.
Enjoy!