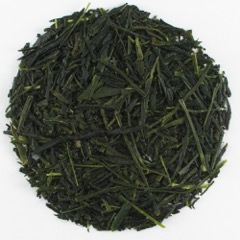 As I have mentioned in the past, Spring is an exciting time for us tea lovers. In many parts of the world the tea plants have been dormant during the winter, and are now awakening with fresh and complex flavors.
This is true in Japan as well. We look forward to the first Shinchas of the year. Often referred to as the 88 day tea, as it is harvested around that time of the year, these are picked and processed to capture the sweet, grassy, umami flavors of the young leaves.
Hashiri is the very first harvest. The tea we purchase is grown by the Moriuchi family and carefully hand-picked. At the factory it is lightly processed with little roasting, and a slightly higher moisture content to emphasize the character of the leaf.
I like to call these the "Beaujolais Nouveau of Japanese tea." The crop is carefully, but quickly produced, then air shipped to us. Like the wine, this tea is really meant to be consumed early to capture the full experience. It is still later in the year due to the way it is made, but in my opinion lack the depth it exhibits early after it is made.
So watch for this early in May. Don't miss your chance to purchase some, then sit back and treat yourself to a special experience. (That is my plan anyway!)