By: Jordan Concannon – Owner of Blue Oceans Float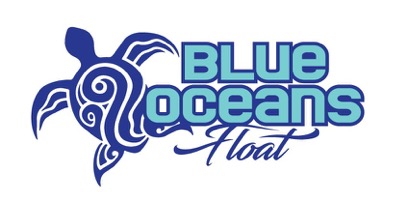 Even before I started designing the layout of my float shop, I knew I wanted a tea bar. It took quite a long time to find the exact 'bar' that would work in the space and match the style of other items in the lobby. It couldn't be too metallic or modern, it couldn't be old fashioned or too small. It had to be big enough to hold tea and water, and provide a counter space when we held parties and gatherings in the shop.
The tea bar was the last piece to come together. Long before that I decided with my team members that we wanted only tea from one location- The Tea Smith. I'd visited the Tea Smith so many times over the past 2 years. I'd go before and after work or school, or just to relax in a nice space to work on the computer or read. I'm a green tea drinker, but staff from The Tea Smith convinced me to branch out to other teas, like the tisanes and the harmony teas. Their staff took the time to tell me all about the history of their teas, the art of brewing the perfect pot of tea, and the best way to serve it. They also gave me advice on the materials to buy, the water heater I needed, and every item that was necessary in providing a wonderful tea experience for the visitors to Blue Oceans Float.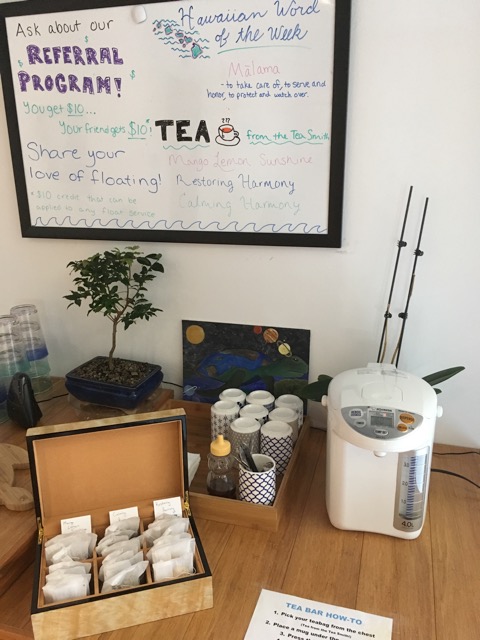 Our lobby was already very inviting and we encourage floaters to relax on the couches after their float – which they already do with little persuasion. The tea adds that extra piece of relaxation and perfection to the floating experience. It's like a gateway between floating and the outside world. People coming out of a float shouldn't have to rush back to the hectic world and crazy roads. They should have an opportunity to slowly readjust to gravity, the sounds and noises of the world. The tea provides that opportunity. It helps their body and mind gently wake back up.
All who have tried the teas we currently provide absolutely LOVE the flavors and the richness, the depth and the energizing yet calming energy they bring. I'm excited to try more flavors of tea as time goes on and continue to support our local Tea Smith.