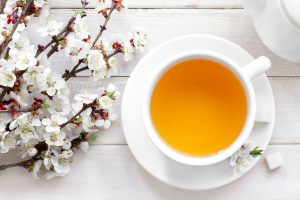 With the arrival of spring and its ever-warming weather, there are a plethora of bright, floral and herbal teas to match what's happening outside. Spring teas are among the most beautiful, colorful, and delightful flavors available at any time of year. And for tea-lovers, the start of spring is pure enjoyment!
In Japan, the season of spring is marked by the aromatic, pink blossoms of cherry trees. The sense of renewal is captured in our Cherry Blossom Green Tea, marked with dried cherry bits. http://www.theteasmith.com/product/Cherry-Blossom-Green-Tea.html
Spring is most arguably the high season for Chinese tea. Some of the nation's best and most sought-after teas originate in spring, when the first buds on tea plants are harvested after the winter.
Jasmine Pearl is comprised of Fine Pouchong leaves, scented with jasmine blooms, then rolled into pearls that unfurl in your cup. These slender green leaves produce their entrancing aroma for three, four, five infusions. http://www.theteasmith.com/product/Finest-Jasmine-Pearls-Green-Tea.html
Black tea is widely known for its wealth of benefits, from increasing energy to boosting immunity. Simply Strawberry Black Tea has a subtle aroma and flavor when hot, but a slightly stronger aroma and sweet flavor once it has cooled making it a treat that can be enjoyed all year long! http://www.theteasmith.com/product/Simply-Strawberry-Black-Tea.html
Perfect for a sunny spring day is The Tea Smith's Orange Blosson Rooibos tea. This is a light, orange-scented tea with curls of orange zest. When infused, the rind imparts a splash of citrus that comes together with the crispness of rooibos. http://www.theteasmith.com/product/Orange-Blossom-Rooibos-Tea.html
If you're looking for something soothing after a long day, the natural oils in Lavender White Tea promote relaxation even before you take that first sip. White teas are enjoyed for their floral notes. Add natural lavender flowers and you have a tea that is uplifting and at the same time relaxing. http://www.theteasmith.com/product/Lavender-Spring-White-Tea.html
The short time between spring and summer brings about the new first flush Darjeelings from India. First flushes are regarded as the "champagne of tea." Stay tuned! We will be announcing the arrival of our 2017 Darjeeling- 1st Flush- soon!