The holidays are in full swing, and you probably already started shopping. If you're stumped on what to buy some very special people, you might want to consider making something by hand.
DIY Holiday Gift: A Cup of Cheer in 5 Easy Steps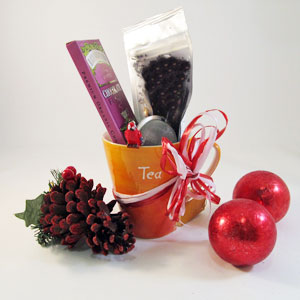 This is the perfect gift to say thank you to a teacher or co-worker. It's also a great way to introduce friends to loose leaf tea. It's only takes an afternoon to make a bunch, and you can easily customize each one.
What You'll Need:
3 or more different kinds of tea: we recommend a green tea, black tea, and caffeine-free option to mix things up
Sealable sandwich bags or smaller plastic bags
Cellophane – clear or holiday-colored
Ribbon
Instructions:
Begin by making your customized tea bags. For each caffeinated tea, like black, green, white, or oolong, place 1 teaspoon of leaves in each tea bag. For herbal infusions, place 1 tablespoon in each tea bag. Fold the bags closed.
To keep the tea in your tea bags fresh, place them in sandwich bags and gently press the air out of them before sealing. You will want to use separate sandwich bags for each kind of tea for each person's mug so they don't mix flavors and scents.
Place the sealed tea bags in the mug with a card, candy, and other small gifts. You may want to include an explanation of the tea with brewing instructions.
Wrap each mug with cellophane and tie it with a ribbon.
Enjoy giving out your cups of cheer!
Add comment November 25th, 2014