There is no better time of year for baking than winter, and a warm out-of-the-oven chocolate chip cookie is likely our nation's favorite treat. While the weather often drives you inside and your body craves more calories this time of year, why not spend some time perfecting that beloved classic?
We let someone else do all of the experimenting for us so we could focus more on selecting the right type of tea to pair with your plate of cookies. Brew up a cup of your favorite variety, and take a minute to find the chocolate chip cookie that sounds the tastiest to you.
Your Basic Chocolate Chip Cookie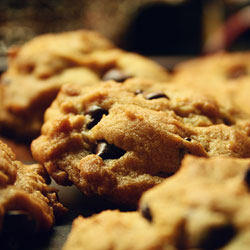 If you don't already have stained page in a recipe book with your favorite cookie recipe, here is one you can try from well.com. Keep in mind, you may want to tweak it a little before you bake your first batch.
2 1/4 cups all-purpose flour
1 teaspoon baking soda
1 teaspoon salt
1 cup (2 sticks, 1/2 pound) butter, softened
3/4 cup granulated [white] sugar
3/4 cup packed brown sugar
1 teaspoon vanilla extract
2 eggs
2 cups (12-ounce package) Nestle Toll House Semi-Sweet Chocolate Morsels
1 cup chopped nuts
COMBINE flour, baking soda and salt in small bowl. Beat butter, granulated sugar, brown sugar and vanilla in large mixer bowl. Add eggs one at a time, beating well after each addition; gradually beat in flour mixture. Stir in morsels and nuts. Drop by rounded tablespoon onto ungreased baking sheets.
BAKE in preheated 375-degree [Fahrenheit] oven for 9 to 11 minutes or until golden brown. Let stand for 2 minutes; remove to wire racks to cool completely.
Your Perfect Cookie
Chocolate chip cookies are, believe it or not, very versatile and flexible. Apart from forgetting them in the oven too long (which was my very first attempt gone wrong), each one of these ingredients can be tweaked. Adding up to a half cup more flour can make the cookies more cake-like. Cutting out the brown sugar for all white sugar will make your cookie spread out more on the pan, while using all brown sugar will give them a darker, crispier edge and give them a butterscotch flavor.
You can also leave out the baking powder or the baking soda to see the difference that gives your cookies. Just don't leave both out. When it comes to butter, melting it versus creaming it with the sugar will make the fluffiness and texture of the final product vary. Finally, you can try chilling the dough before you bake it, although the difference here may really boil down to convenience of having a cookie closer to the time you are craving it.
Now for the fun part: pairing the perfect tea with your fresh-baked, uniquely personalized cookie! This is also a challenging decision because so many types of teas pair compliment this well-loved treat. To get the full flavor profile of your cookie, try a tea that has not been blended with other fruits or flowers. a rich Keemun or Assam Sessa would go nicely, especially with a splash of milk. If you want something that contrasts flavors nicely, try Moroccan Mint. Chocolate and mint is great at any time.
The smell of fresh-baked cookies has always had a way of bringing people together and making your abode feel more cozy and comforting. And fresh baked goodies and tea make the very best companions on a chilly day. Which recipe will you try?
1 comment January 29th, 2015